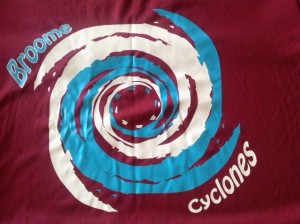 For the first time Broome Ultimate Club is sending a team to The Phoenix has Risen Ultimate State Championships.  The championship is being held in Perth on the 6th and 7th September 2014.
The Team is made up of 14 locals (6 female, 8 male).  They have been training hard and are looking forward to testing out their new skills down in Perth.  The member of the team are:
Captain: Bec Lorraine    Manager: Brad Glorie     Spirit Captain: Jemma Arman
Other Members:  Naomi Mackay, Tash Mavec, Mich Watson, Tristan Oakley, Dante Mavec, Tom Holyoake, Andy Dean, Seth Lovell, Steve Oakley, William Oakley, Mo Bray.
They have also being fundraising to gather funds to help cover costs of registration, shirts and airfares.  A big thank you goes out to all those who have supported the team over the past month, local businesses and general members of the community have been a great help.
Broome Ultimate Club would also like to thank the Department of Sport and Recreation as a major contributor toward the junior players attending The Phoenix has Risen Championships.  Sport and recreation builds stronger, healthier, happier and safer communities.
Good Luck BROOME CYCLONES