Congratulations to Seth Lovell!
Seth has been included in the U18 State boys team heading over to compete at the 2014 Australian Youth Ultimate Championships being held in Melbourne, Victoria on June 7th and 8th.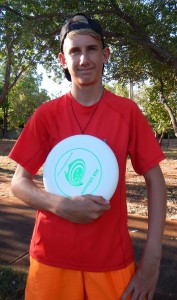 Broome Ultimate Club has very strong ties with our State Sporting Association (WA Flying Disc Association) and we love being included in their youth development pathway program.
Last year the WA U18 team finished in second place and also included a local Broome resident (Amos Anderson) in their line up. Good to know we breed quality up here in the far North West!
From all of us at the club, Seth, we are super proud of your inclusion in the 2014 team and wish you all the success for the campaign.
Official event website can be found here: http://youthultimate.com.au/ayuc2014/
If you want to get ll the updates regarding the teams progress at the tournament follow the Youth Ultimate WA official Facebook page.